Overall cover letter format
The same tips from our resume guidance (read the details here) apply: be concise, error-free, and consistent. In terms of consistency, make sure to be consistent within your cover letter and with your resume (in terms of formatting, but also names, numbers, etc.).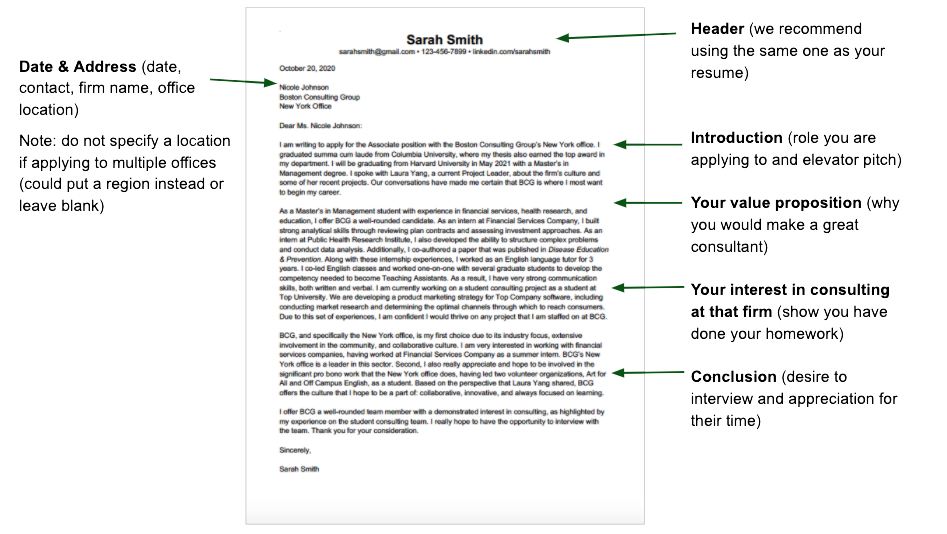 Dear: ...who?
Ideally, you have the name of the lead recruiter for this role. If you are taking part in on-campus recruiting, your university should have a main point of contact. If you are being referred, you can ask your contact who should address the letter. Lastly, you can also go on the company website and look for the Head of Recruiting for the office you're applying to. If you're unable to track this information down, then just write "Hiring Team." This is perfectly acceptable as your application materials will be passed on to several people throughout the company and may even be shared with multiple offices, depending on where you choose to apply. It always reads much better than "To Whom It May Concern."
Paragraph #1: the introduction
Keep this short and simple. This paragraph should (1) make it very easy for the reader to know what role (e.g., Associate, Project Leader), office, practice area (if relevant), and firm you're applying to, and (2) spark interest in reading the rest of your application. This paragraph should be 2-3 sentences.


Example:
I am writing to apply for the Associate position with BCG's New York office. I graduated summa cum laude from Columbia University and will graduate with a Master's in Management from Harvard University in May 2021, where I currently lead a student consulting project for Top Software company. My conversations with Laura Yang, a current Project Leader, have made me certain that BCG is where I want to begin my career.

Paragraph #2: your value proposition
This is where you build the case for why you would be a valuable member of their consulting team. Do not write out a long list or repeat your resume here, instead highlight skills and achievements from your resume. You can also drop any impressive employer or university names here, as well as mention any impressive results you have driven. This paragraph should convince them that you can do the job. This paragraph should be 4-6 sentences.
Example:
As a Master's in Management student with experience in consulting, financial services, health research, and education, I offer BCG a well-rounded candidate. As a student consultant, I am gaining firsthand experience in management consulting by leading a team in delivering a product marketing strategy for Top Software Company. Through my internships at Financial Services Company and Public Health Research Institute, I sharpened my analytical skills and ability to put structure around ambiguous challenges. Meanwhile, my three years of teaching experience strengthened my ability to present to and advise others. I have excelled in several different sectors and areas of study, and therefore am confident I can thrive on any project that I am staffed on at BCG.
Paragraph #3: your interest in consulting at that firm
Consulting is a challenging, and often demanding, career. Firms want to know why you want to work in the industry. They also want to make sure you have taken the time to understand what they do and what makes them unique. Use this paragraph to articulate both (1) why you want to work in consulting, and (2) why you want to join that specific firm. This paragraph should be 4-6 sentences.


When writing why you want to work in consulting:


Make sure to explain:
Why you want to begin your career in consulting (if you are a student)
Why you want to transition to consulting (if you are in another role/industry)
Why you want to remain in consulting but switch firms (if you are at another firm)

Avoid:
Negative comments about current or past roles and employers - this is a big red flag. Instead, you can describe why the role responsibilities, industry, or office location are not the right fit for your career moving forward.


When writing why you want to join that specific firm, consider:
Type of firm (e.g., a strategy house like MBB, a boutique firm with a niche focus, a consulting practice within a larger professional services firm)
Composition of the firm's work (e.g., 1-3 month strategy projects, 6-12 month implementation engagements, or a mix of both)
Industry focus, practice area, and/or functional area (offices like London and New York will naturally serve a lot of financial services companies, while others may have a bigger focus on digital services or government or energy, and so forth; of course, if you are applying to a specific area, explain your motivations for doing so)
Firm and office culture (the best way to really get a feel for the culture is by speaking with employees at career fairs or networking calls; you can also research firm charity work, professional development initiatives, or other events)


You can read our overview of the different firms here.

Example:
BCG, and specifically the New York office, is my first choice due to its industry focus, extensive involvement in the community, and collaborative culture. First, I would love to build on my past internship experience in financial services. BCG's New York office offers the opportunity to work with leading financial institutions on their most pressing challenges, ranging from digital transformation to cost reduction. Second, I really appreciate and hope to be involved in the significant pro bono work that the New York office does, having led two volunteer organizations as a student. Third, based on the perspective that Laura Yang shared, BCG offers the culture that I hope to be a part of; collaborative, innovative, and always focused on learning.
Paragraph #4: the conclusion
Like the introduction, keep this short and simple. You want to: (1) briefly (and we mean briefly) recap why there is a mutual fit, (2) thank the reader for their time, and (3) emphasize your desire to interview. This paragraph should be 2-3 sentences.


Example:
I offer BCG a well-rounded team member with a demonstrated interest in consulting. I really hope to have the opportunity to interview with the team. Thank you for your consideration.


Sincerely,
Full name